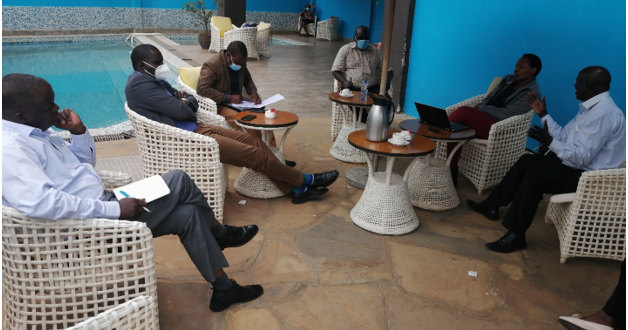 JKUAT COHES Research team hold discussions with the Kajiado County Health Management Team
Held on 1st September, 2021 at Gelian Hotel Machakos
The JKUAT COHES Research team held discussions with the Kajiado CHMT led by the Director of Medical Services of Kajiado County at the Gelian Hotel in Machakos town. Prof Simon Karanja on behalf of the JKUAT COHES Research team briefed the Kajiado team on the upcoming study on "Utilization of digital tools to enhance COVID-19 and TB testing and linkage to care among Boda Boda riders in the Nairobi metropolis". He outlined the objectives of the study and explained why the project primarily targets the Bodaboda riders in the Kajiado Sub-counties within the Nairobi Metropolis. Prof. Karanja further stated that this was a collaborative study between the MOH and the Foundation of Innovative and New Diagnostics (FIND). He reassured the CHMT team that the
JKUAT is more than ready to work with the county to make this study a success. On behalf of the CHMT team, the Director of Health welcomed the timeliness of the study and the impact it would have on the bodaboda sector. He noted that the bodaboda group is a high risk group that needs to be prioritized for vaccination against COVID-19.  He also noted the high disease burden of TB in the county and the importance of this study in revealing the extent to which the COVID-19 pandemic has influenced the prevalence and management of TB in the county. He welcomed the JKUAT to work with his officers. He requested JKUAT team to write and introduction letter to the CEC Health, Kajiado to facilitate the entry into the county and access to the health facilities in the county. He suggested that going forward this new found collaboration can best be anchored in the development and signing of an MOU betwwen the County and the university.
The Kajiado CHMT team consisted of County Director of Public Health, Deputy Director of Medical Services, In charge of Laboratory Services and the County TB Program Coordinator .
The JKUAT COHES Research team included Prof Simon Karanja, Dr Reuben Thuo, Prof Fred Wamunyokoli and Dr. Jane Aduda.
____________________________