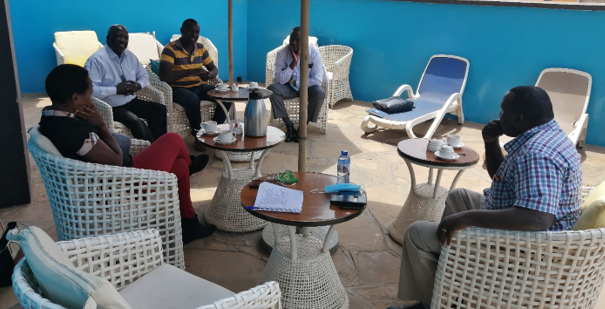 JKUAT COHES Research team hold discussions with Boda Boda leadership
Held on 1st September, 2021 at Gelian Hotel in Machakos
The Bodaboda leadership of Kajiado and Machakos Counties held discussions with the JKUAT COHES Research team at the Gelian Hotel in Machakos town . Kajiado County was represented by Mr. Steven Mutiso who is the Secretary General of the Bodaboda Safety Association of Kenya (BAK) in Kajiado County, while Mr. Joel Mwenda, who is the BAK Chairman of Machakos County represented Machakos County.
Prof Simon Karanja on behalf of the JKUAT team gave a brief background on the upcoming study on "Utilization of digital tools to enhance COVID-19 and TB testing and linkage to care among Boda Boda riders in the Nairobi metropolis. He explained why this group was targeted as it has been largely neglected compared to the distant truckers with regards to COVID-19 and TB testing and vaccination against COVID-19. He further noted some of the challenges the riders face in accessing quality and cost-effective health care and lack of entrepreneurial skills. He reiterated the benefits of this study to the riders, their families and customers and suggested further collaborative activities that can be jointly undertaken by the two institutions.
The county BAK leadership explained their organizational hierarchy, membership and mobilization potentials. They pledged their full cooperation and support in publicizing and mobilizing their members to fully participate in the study.
In attendance from the JKUAT COHES Research team were Dr Reuben Thuo, Prof Fred Wamunyokoli and Dr. Jane Aduda.
_____________________________