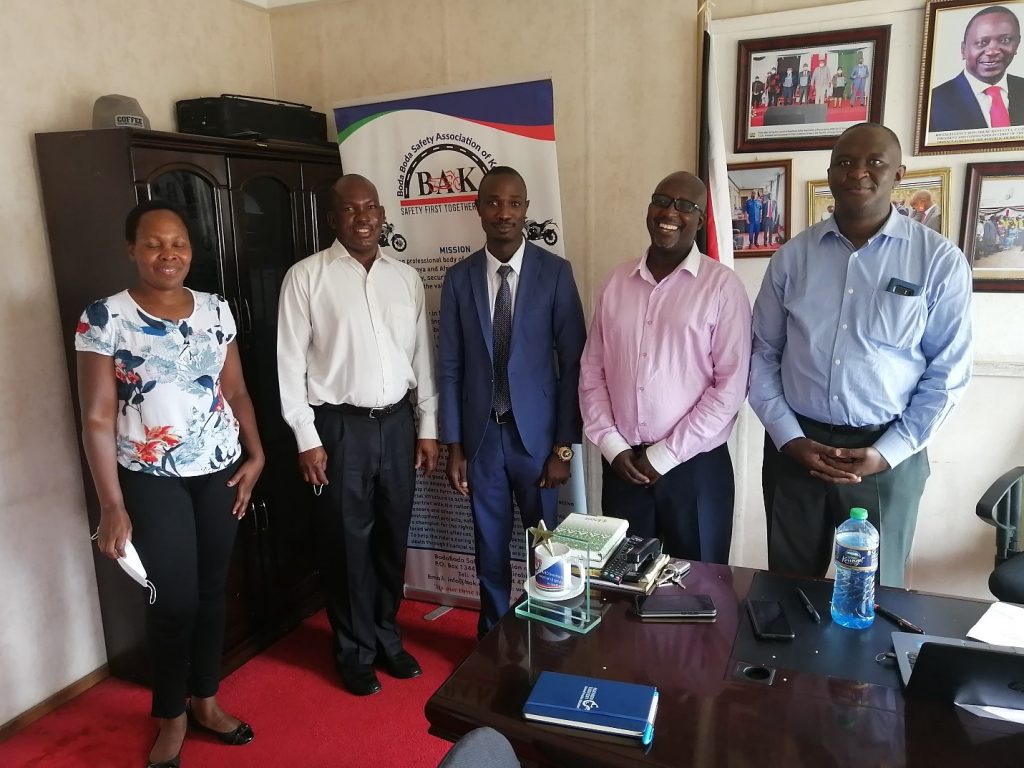 Held on 30th August, 2021 at Bruce house office, Nairobi
The President of the Bodaboda Safety Association of Kenya (BAK), Mr. Kevin Mubade held discussions with the JKUAT COHES Research Team at his Bruce house office in Nairobi on 30th August 2021. Mr. Mubade gave a detailed background of how BAK was established, the organizational structure, activities of the association and the existing collaboration between the association and the Ministry of Interior and Coordination of National Government and the Office of the President.
Prof Simon Karanja, briefed the President on purpose of the meeting. He outlined the objectives of the upcoming study on "Utilization of digital tools to enhance COVID-19 and TB testing and linkage to care among Boda Boda riders in the Nairobi metropolis" which is funded byFoundation of Innovative and New Diagnostics (FIND). He stated that the study is a collaboration between JKUAT, MOH and the County Governments of Nairobi, Kiambu, Kajiado and Machakos.  Mr Mubade welcomed the study. He said the study would not have come at a better time as the association forges ties with other organizations to enhance the welfare of its members. He stated that BAK has previously responded to calls from various organizations to participate in their activities. An example was the Kenya National Blood Transfusion Service to donate blood. He pledged his support for the study and promised to mobilize his members to participate and support the study unconditionally.
Mr Mubabe further hoped that the working relationship between BAK and JKUAT would be strengthened through an MOU. This would ease access of his members to various university products such as training in highly needed areas such as entrepreneurial skills, health-care and financial management. 
In attendance was also Dr. Reuben Thuo, Prof Fred Wamunyokoli and Dr. Jane Aduda.
____________________________